6 Unique Saunas & 2 Steam Baths
From Finnish saunas to Indigenous sweat lodges, Turkish hammams, Japanese sentos, Korean jimjilbang, Laotian hom yaas and Russian banyas—sweat culture brings us all together. The architecture, heat source, climate, temperature and rituals of a sauna reflect the personality and culture of a nation. In our village, we believe in the Canadian tradition of coming together. In a sauna, we are united: humbled before the hearth and relieved of ordinary worries.
The 2000-year-old Nordic tradition of thermotherapy begins in a sauna. Hot—the first step of the thermal cycle. 10 to 15 minutes in a sauna is all you need to be transported elsewhere; to a world where stress washes away along with sweat. Where sore muscles and achy joints are soothed, toxins disappear in steam and endorphins are just within reach, two steps away to be exact.
The spa village is home to 6 unique saunas and 2 steam baths. Taking worldly inspiration and moulding them to our roots, all great saunas lead to the same destination: a better us.

"Imagine travelling to faraway lands without leaving the warmth of your village."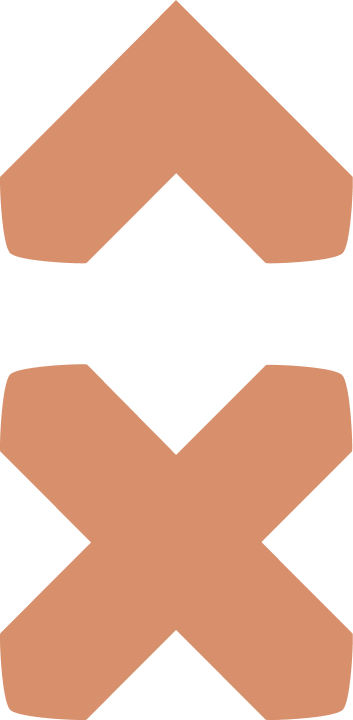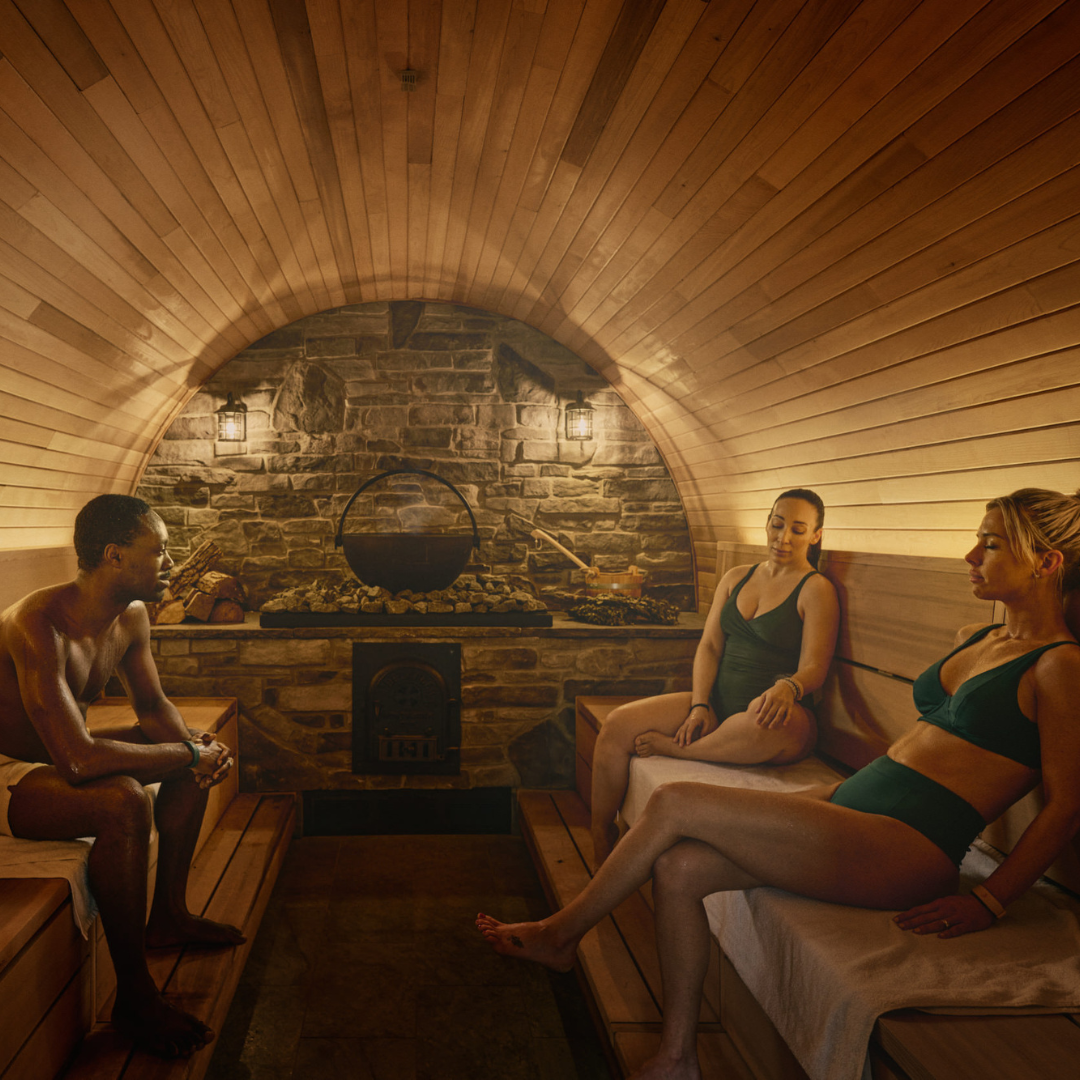 The Aromä Sauna
You find yourself drawn to the Aromä sauna, to the calming scents spilling from inside. With its cozy atmosphere and swirling aromas, the heat of the sauna embraces you. The spa is infused with peace and contentment. Here begins a unique aromatic journey.
Aromä at a Glance
• Sauna type: Aromatic sauna
• Feature: Atmospheric and aromatic experience
The Hälo Sauna
Step into a warm rose-coloured universe of the Hälo sauna. Above you, a dreamy vaulted ceiling made of pure Himalayan salt blocks glows. Fill your lungs with air and reap the cleansing benefits of the salt ions surrounding you. Feel your mood, respiration and overall health improve as you embrace Halotherapy and relax in this gentle sauna.
Hälo at a Glance
• Sauna type: Salt inhalation sauna
• Feature: Vaulted Himalayan salt brick ceiling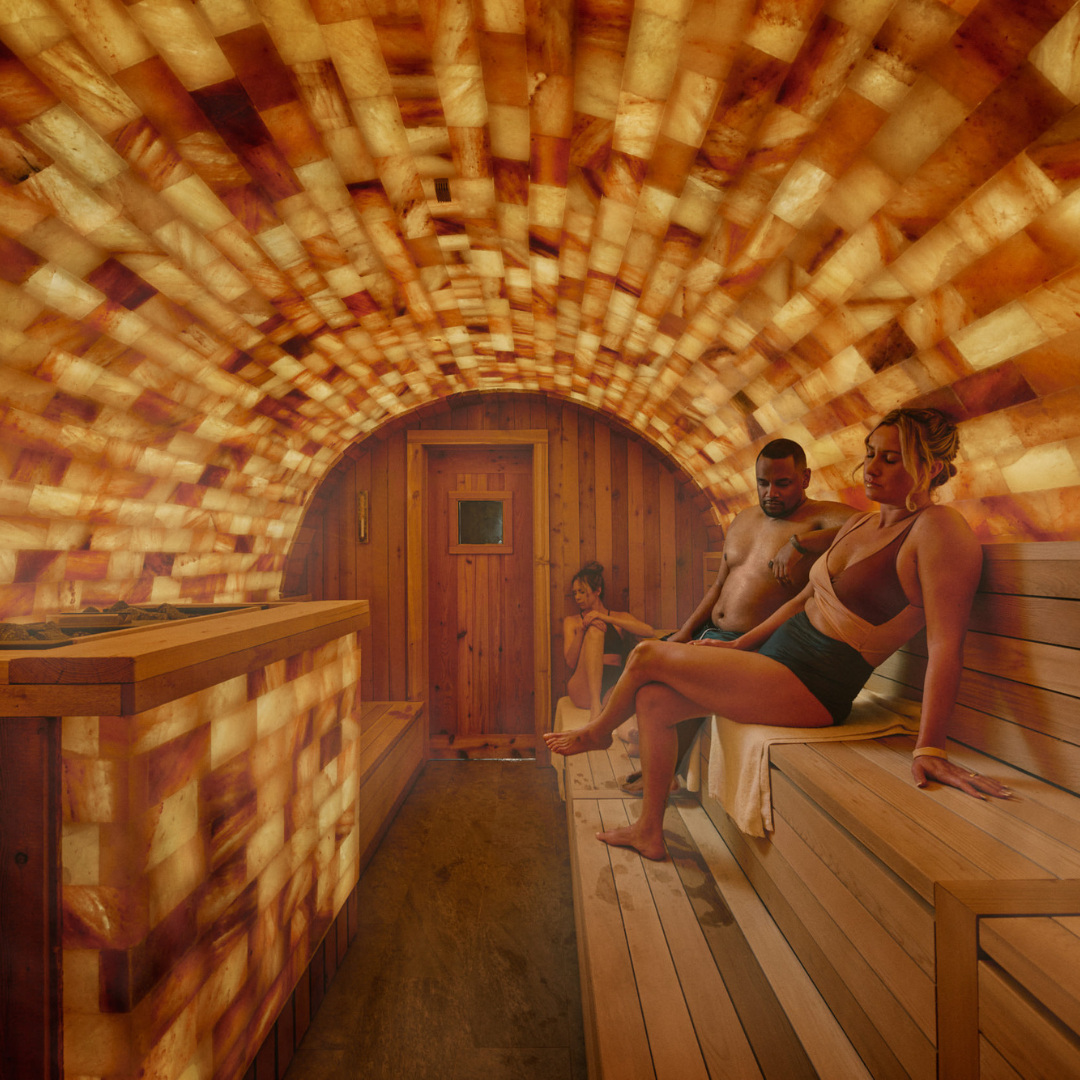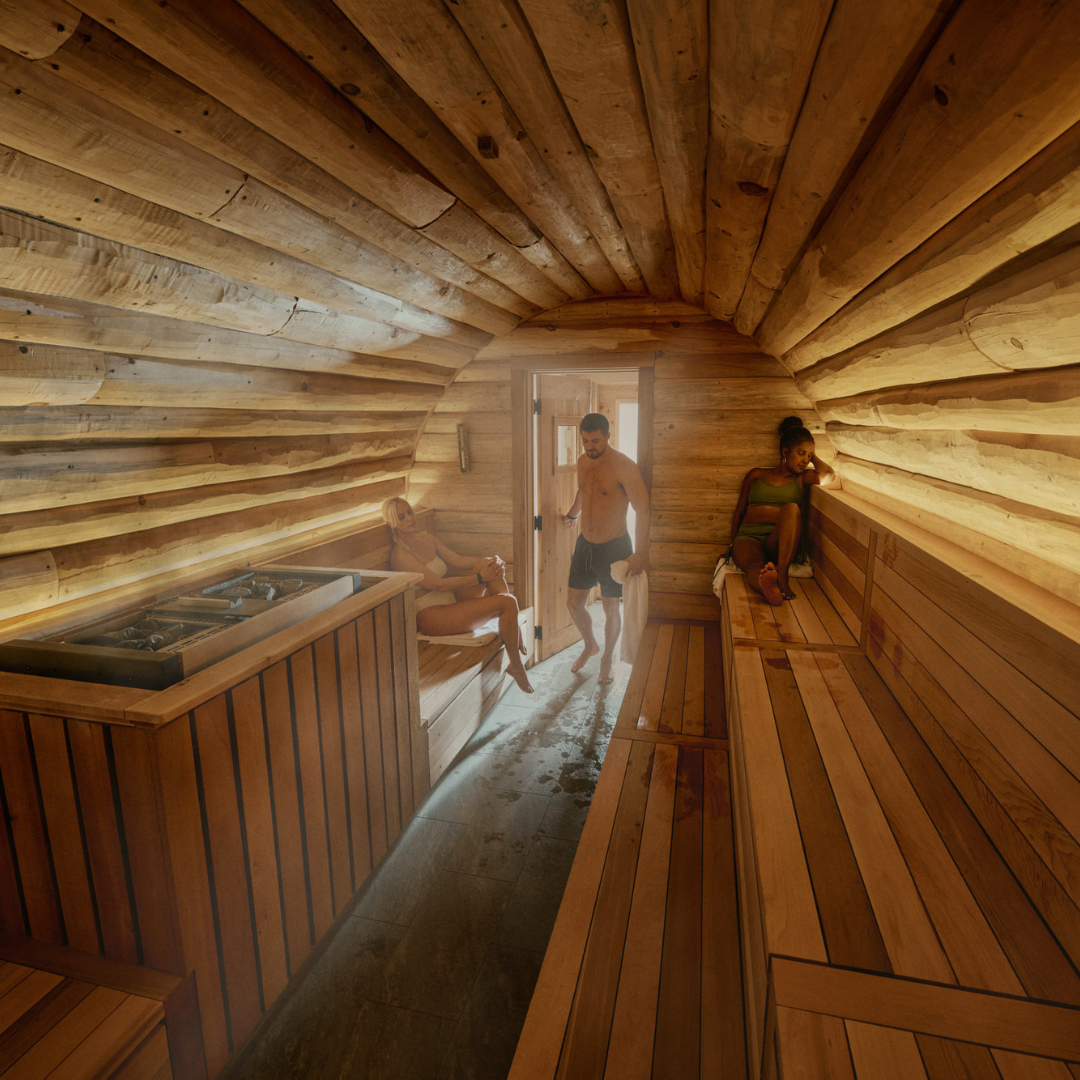 The Kâbin Sauna
What looks like a cozy traditional log cabin hides away a secret: extreme heat. A wave of balmy intensity washes over you as you plunge into the sauna. The hottest sauna in our spa village beckons you to test your limits. Empty your mind, slow down your breathing, and focus on the effect the heat has on all your senses.
Kâbin at a Glance
• Feature: Hottest sauna in the village
The Fläm Sauna
The meditative tradition of staring into glowing embers transcends millennia. The sauna is silent save for the crackling sounds of the central wood-burning fireplace and your own breathing. As you focus on the flames, you feel currents of heat radiating from the fire roll across the ceiling and down your back. As sweat follows and time passes, you allow yourself to rest and meditate.
Fläm at a Glance
• Feature: Central wood fireplace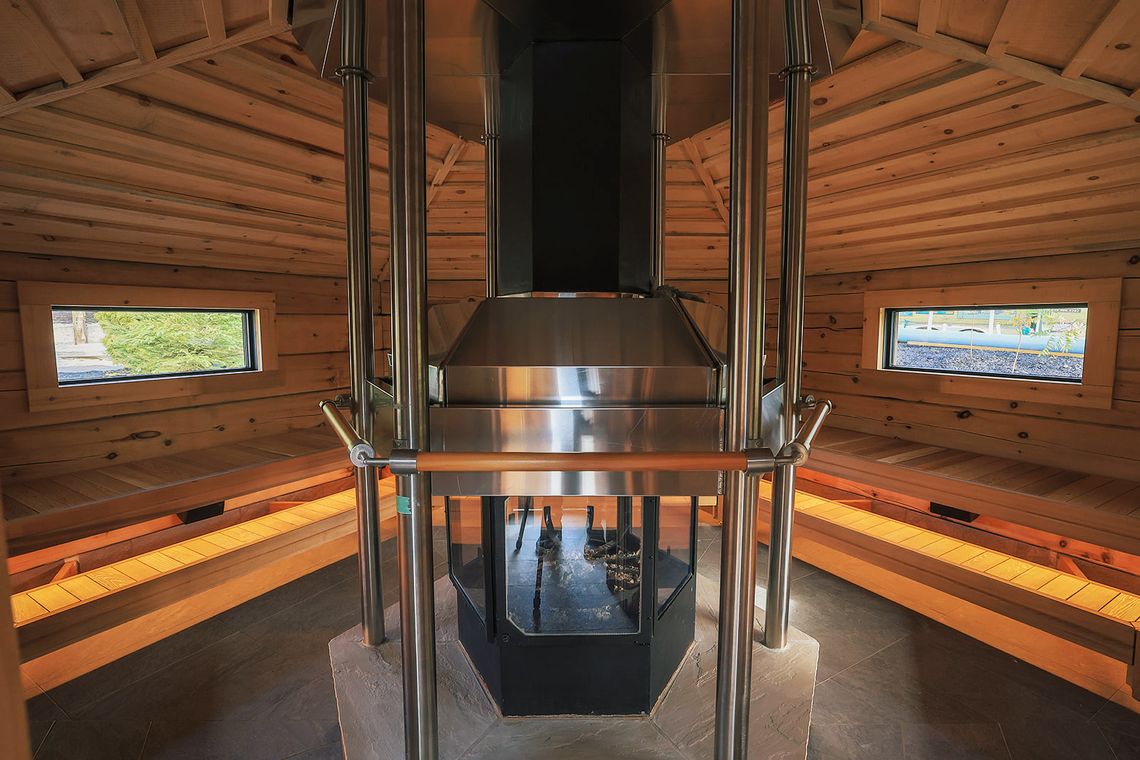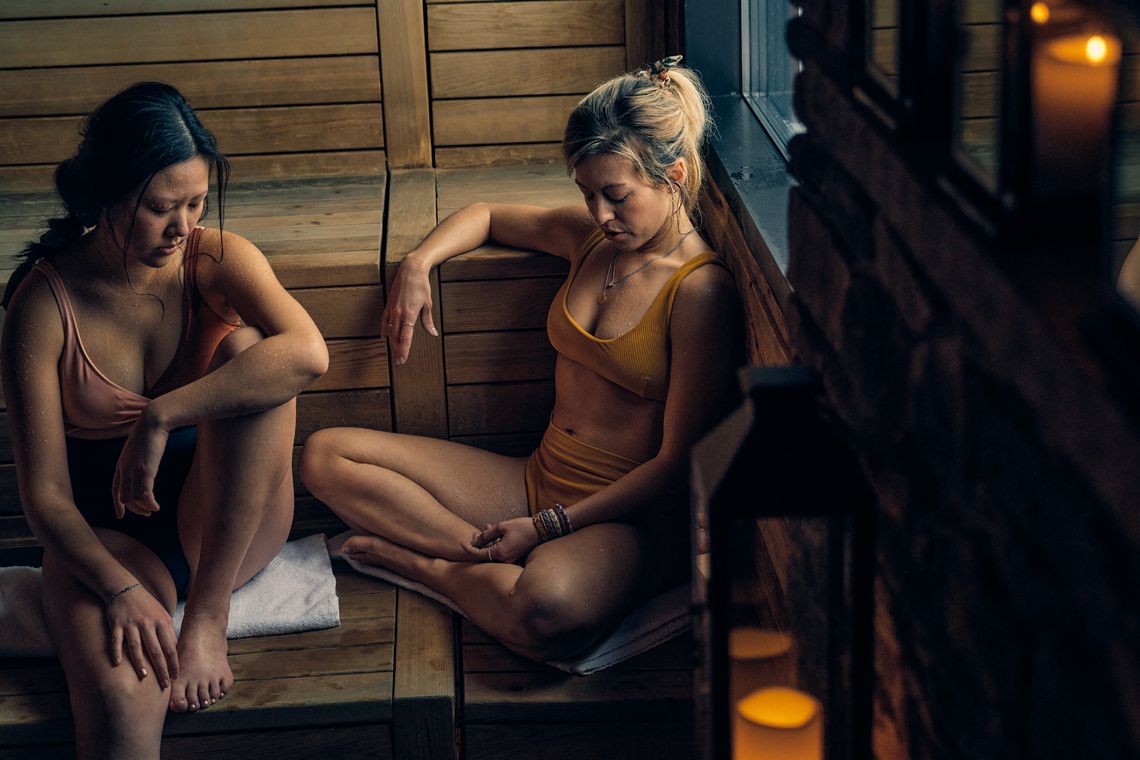 The Kelö Sauna
From the impressive windows which allow you to gaze onto the village and its natural backdrop to the iron dome that opens to allow an oversized ladle to pour water onto the oven's stone, the Kelö sauna will mesmerize your senses. Breathe in the aromas flowing through the sauna as you enjoy the show and reap the benefits of carefully chosen essential oils
Kelö at a Glance
• Sauna type: Automatic infusion dry sauna
• Feature: Kelo wood built
The Loggä Event Sauna
The largest dry sauna in North America invites you to an exclusive event. Picture yourself discovering a log cabin which harbours an amphitheatre-like sauna. During Aufguss ceremonies, place all your attention upon Rituals Artisans and let yourself be hypnotized by their choreography, the lights, scents and sounds that fill the sauna. Behind them, past the central oven is a large window overlooking a pond and its waterfall for you to get lost into as the heat envelops you.
Loggä at a Glance
• Sauna type: Event sauna
• Feature: Amphitheatre layout for Aufguss rituals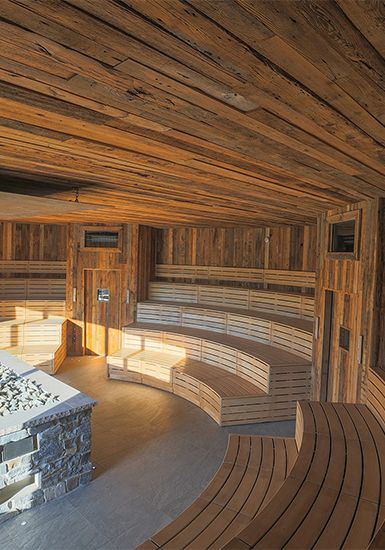 The Steam Haus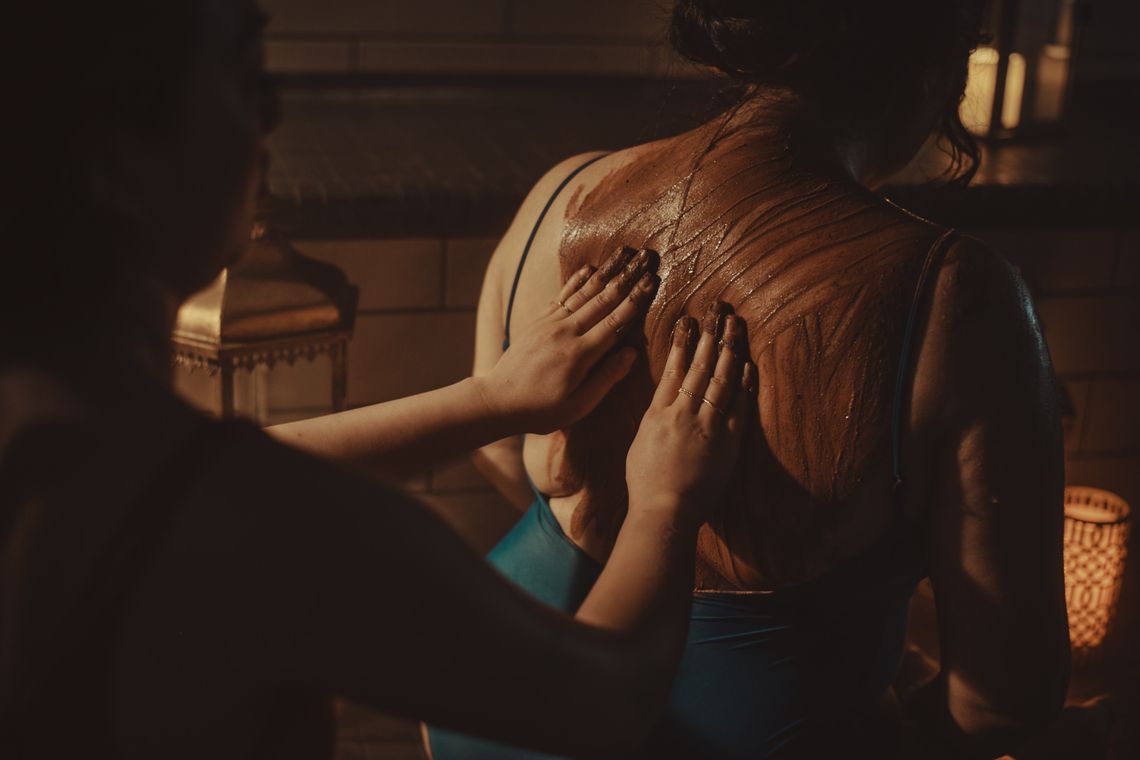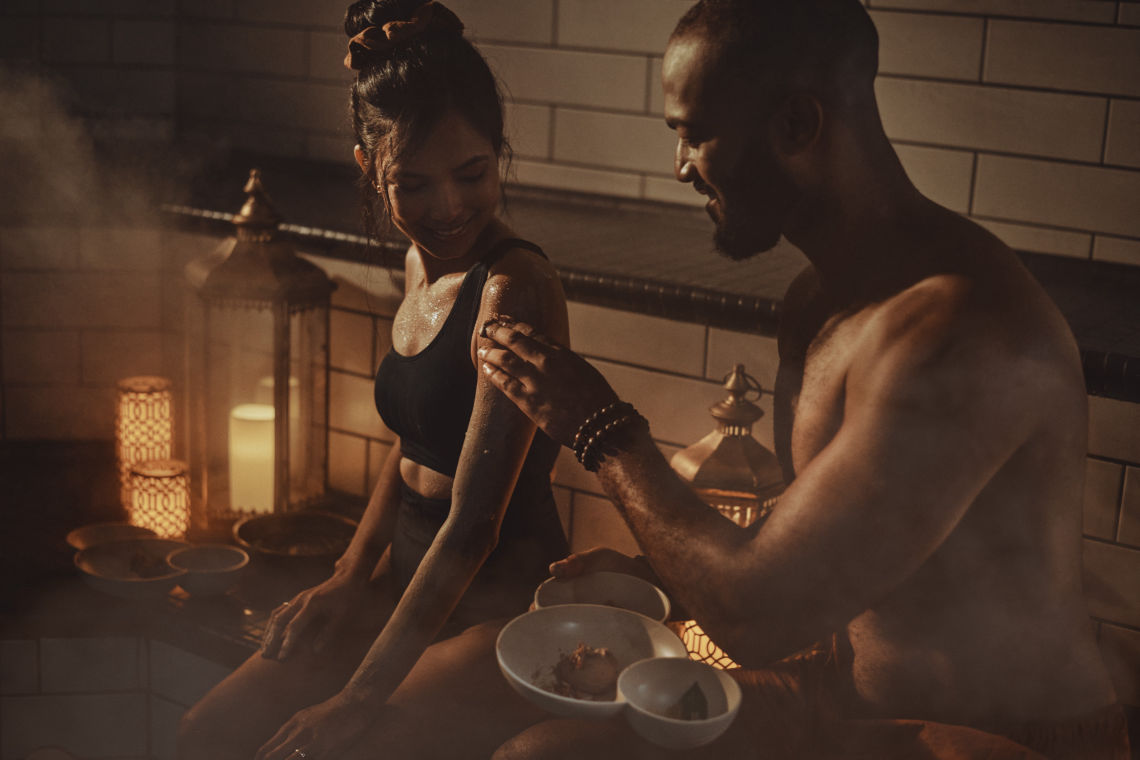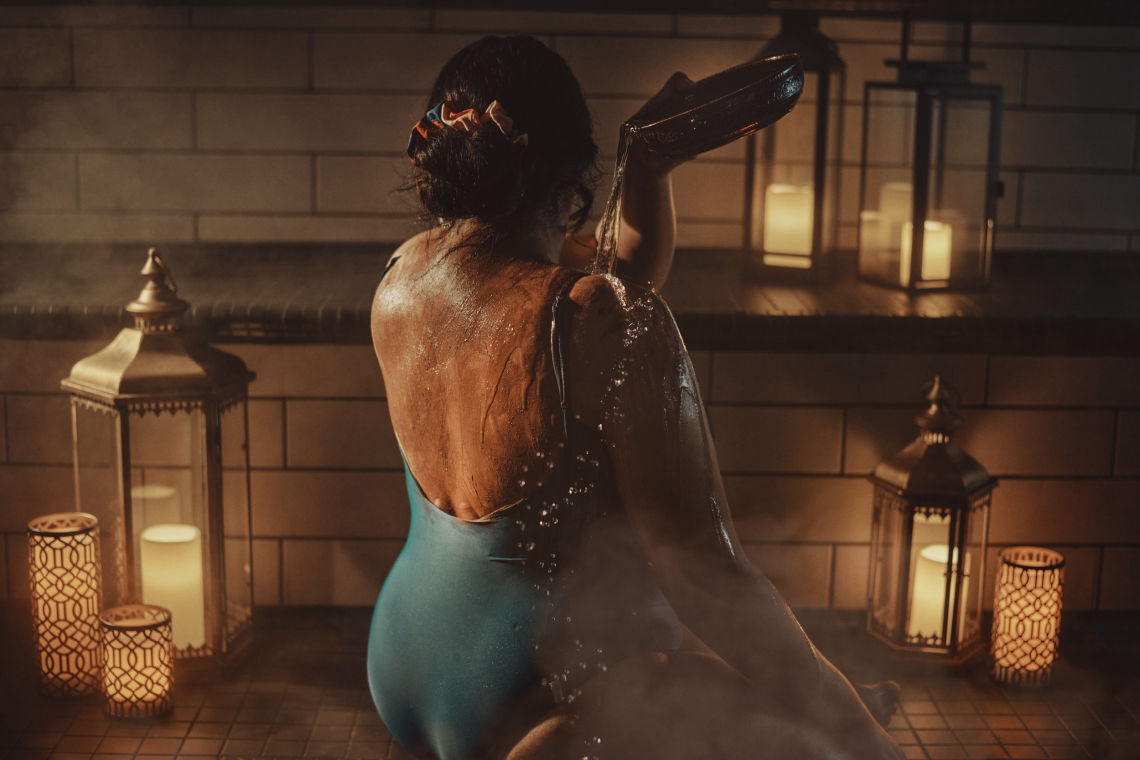 Steam Room A
Through a haze of sweet orange and lime-scented steam awaits a mud bath treatment that will tantalize your senses. Once you have set your intention and reserved your place, the Rhassoul experience beckons you. You relish the soft heat and humidity. A dance of lights and shadows will accompany you as you embark on this self-wellness journey.
Steam Room A at a Glance
• Feature: Sweet orange and lime essential oil
Steam Room B
Find yourself in an environment containing 100% humidity, where water droplets and sweat become indistinguishable against your skin. Feel your muscles relax as you gaze at the starry vaulted ceiling above through clouds of steam and inhale the aromas of eucalyptus and mint essential oils floating through the sauna.
Steam Room B at a Glance
• Feature: Eucalyptus and mint essential oil